This article will explain the most common error messages that Agrimaster encounter and include the steps to troubleshoot the problems.
Error 1: Source File Not Found
One of the most common messages users encounter is when the Agrimaster Installer fails.
If you encounter the below message, please click Cancel and reinstall Agrimaster again.
Please Note
The installer is usually faster the next time it is installed.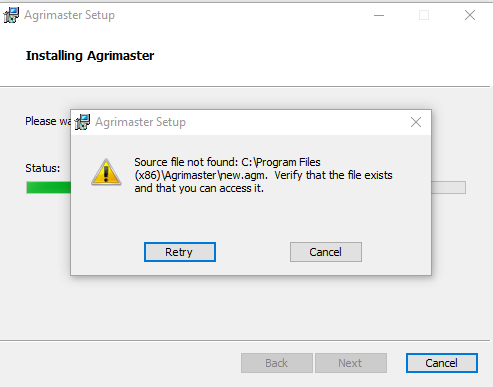 Error 2: Antivirus Preventing The Installer
Please check the name of your antivirus and have a read of the suitable articles below.
If your antivirus is not listed here, please move to the next step.
Advanced Antivirus Troubleshooting
We recommend adding Agrimasters folders to your antivirus exemption list.
If your antivirus is preventing the installer from performing correctly please add the equivalent folders to your exemption list:
C:\Program Files (x86)\Agrimaster
C:\Users\Public\Agrimaster
Please Note
Depending on your computer directory, these paths may change. Please contact your IT Admin to check this has been performed correctly.
Error 3: Running Agrimaster On A Server
If you are running Agrimaster on a server, it is not a recommended setup as Agrimaster is designed purely as a desktop program.
If the above error persists after troubleshooting, please contact the
Customer Support
team.