A department/group can be useful if an asset belongs to a particular area of the farm e.g. it is a piece of machinery only used for cropping. This is useful if you want to be able to report assets by the department.
To Add A New Department/Group
From the Home Page, click Assets & Stock.

Click Asset Register.

The Asset Register will open. Click the Edit button.

The Asset List window opens.

Select

Enter New Group

from the

Choose Group to Modify

dropdown box.
Enter the new group name in the

Group Name

box.
Click the

green tick

to save the new entry.
Click the

black cross

to return to the Set Asset Detail window.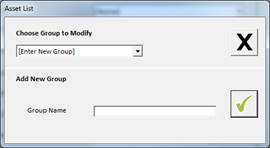 Related Articles
Edit a Department/Group - Click Here
Deactivate a Department/Group - Click Here
Delete a Department/Group - Click Here