When you have employees who earn the same value each pay (monthly/fortnightly/weekly), i.e. salaried employees, Wagemaster allows users to setup and process payslips for employees based on the number of standard hours they work within a pay period.
For these employees, there is no need for timesheet entry with shift start and finish times as they will receive payment for a predetermined number of hours. The following information provides users with an overview of the features and instructions for the optimal setup for their Standard Pays employees.
We recommend entering the hours through a timesheet. However, you can check with your accountant if that is a mandatory requirement for the industry and awards that apply to you.
As part of annualized salaries from 1st March, 2020 employers need to record the annual wage arrangement in writing and give their employees a copy.
The employer must also record the employees:
Starting and finishing times.
Unpaid breaks are taken.
This record is used for annual reconciliations. You can refer to the Fair Work website for further details:
New Employee Setup
To create a new employee select the Use Standard Pays option. Once selected, the number of Standard Hours have to be entered. This amount should be the total hours to be paid in the pay period in hours and minutes.
For Example
62 ½ hours, would be entered as 162:30. Further information is available on this, together with a conversion tool, later in this document. It is also strongly recommended to tick the Salaried Employee box to simplify the display of employee payslips.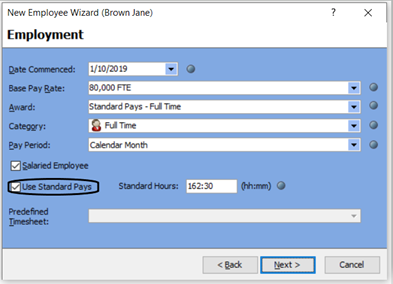 Existing Employee Setup
An employee, who is already setup in the company database, can easily be moved to a Standard Pays setup. It is highly advisable to check the employee's award setup to ensure it meets Standard Pays requirements.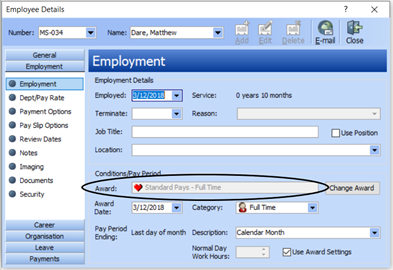 Within the Employees Details screen, under Employment > Payment options, select Use Standard Pays and enter the correct Total Hours for payment each pay. If prior to making this change, the employee was linked to a Pre-defined Timesheet, once the Use Standard Pays option is selected, the Pre-defined Timesheet selection is greyed out and automatically made redundant.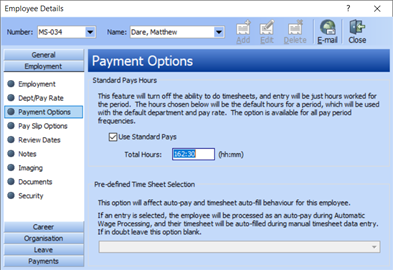 From the Pay Slip Options screen, ensure that the Salaried box is ticked so that payslip information is simplified and more easily understood by employees.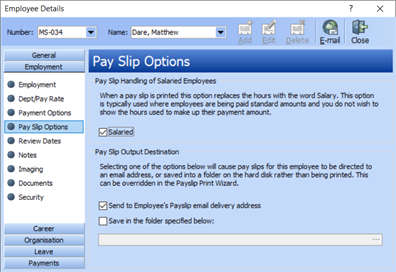 Award setup
It is important to ensure accurate processing and reporting, that Standard Pays Employees' Award configuration follows a simple configuration. Think of your employees' Awards in Wagemaster as the employees' conditions of employment. We need to ensure that these conditions of employment are setup according to the employees' payment requirements.
Standard Pays employees are generally Salaried employees and therefore additional payments such as overtime, shift penalties, loadings for weekday, weekend and public holiday do not apply and therefore should not be setup in the award file. Employees who regularly receive such payments would be better suited to timesheet entry; either manual or via a predefined timesheet, rather than Standard Pays.
Having determined that you wish to pay employees via Standard Pay, rather than timesheet entry, the following screenshots represent the correct award or employment conditions setup for Standard Pays processing.
An existing award can be edited as below or a new award can be created.
Go to Setup > Awards.

Select the award you would like to edit by clicking on the Edit.
Your Normal Times screen should look as below.
Standard Pay employees do not get public holidays paid separately, therefore the Public Holiday screen should be set as below to prevent errors during timesheet processing.
All Loadings sections, starting with Shift (Mon–Thur) should be blank with no boxes selected.
The setup of the Leave and Payments screens will be dependent on the type of leave and rate of accrual needed and can be copied from the other awards.
Please Note
Use the screens as a guide only. Further assistance on award setup items and leave accrual in particular, is best gained from the Support team.
Continue To