This article explains how to complete the Bank Feeds setup component using the existing Internet Banking feature within Agrimaster.
Following these setup steps will ensure your Bank Feeds works seamlessly.
Important
Even if you previously used the manual Internet Banking feature in Agrimaster, you are still required to complete the new setup instructions.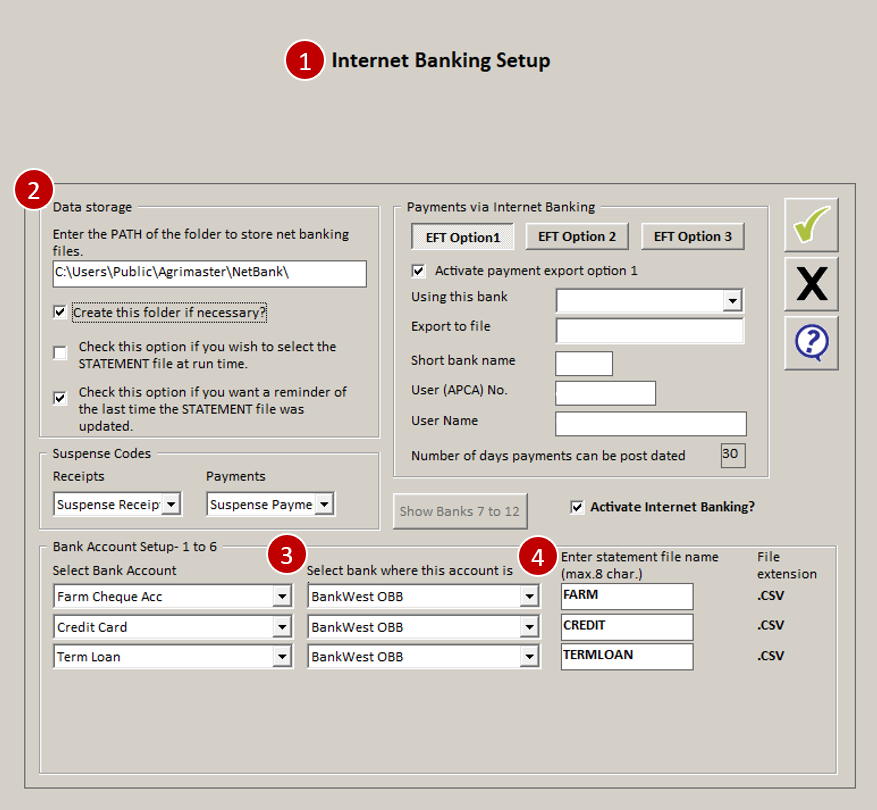 Navigate to Internet Banking Setup.

Start at Agrimaster Home Page and click on Setup & Tools> Internet Banking Setup > Internet Banking Setup.


Validate the path.

Ensure the path for the NetBank folder reads C:\Users\Public\Agrimaster\NetBank
Please Note:
If the path does not match the above, update it to mirror the above-mentioned path.

Check the Suspense Receipt and Payment Codes have been setup.

If there are no Suspense Codes selected, you will have to setup Suspense Codes. The following article will assist with this:

Check Suspense Codes

.

Select the Bank Format.

For each bank account being setup with Bank Feeds, from the drop-down list select the BankWest OBB format. Note: If you have previously setup this feature (i.e with another bank), you will still need to select the BankWest OBB format.
Why BankWest OBB format?
The BankWest OBB format is the most universal CSV format that suits all Banking Institutions' bank feed data. This format must be selected even if you bank with a different bank:

Please note: This will not affect how you do EFT's or the EFT setup

Choose a unique file name.

All bank accounts to be setup with Bank Feeds must have a unique file name. Any bank accounts showing identical file names must be changed to a unique file name.

Once the changes have been made, click the green tick or press F10 to save before leaving the Internet Banking Setup screen.
Close the Agrimaster File and Save all Changes
Once all setup changes in Agrimaster are complete, exit Agrimaster for the changes to be reflected in File Manager. For more information, please see Processing Status Explained.
Continue To