This article will explain which Agrimaster fields and settings to choose when linking payroll data from KeyPay to Agrimaster.
Please Note
The Tax Deducted Setup for Wages and Salaries Setup must be completed in the Tax Setup section of Agrimaster before proceeding with this step: Setup Tax Deducted (PAYG).
This section of the Payroll Setup only needs to be done once, unless you intend to make changes to the settings in future.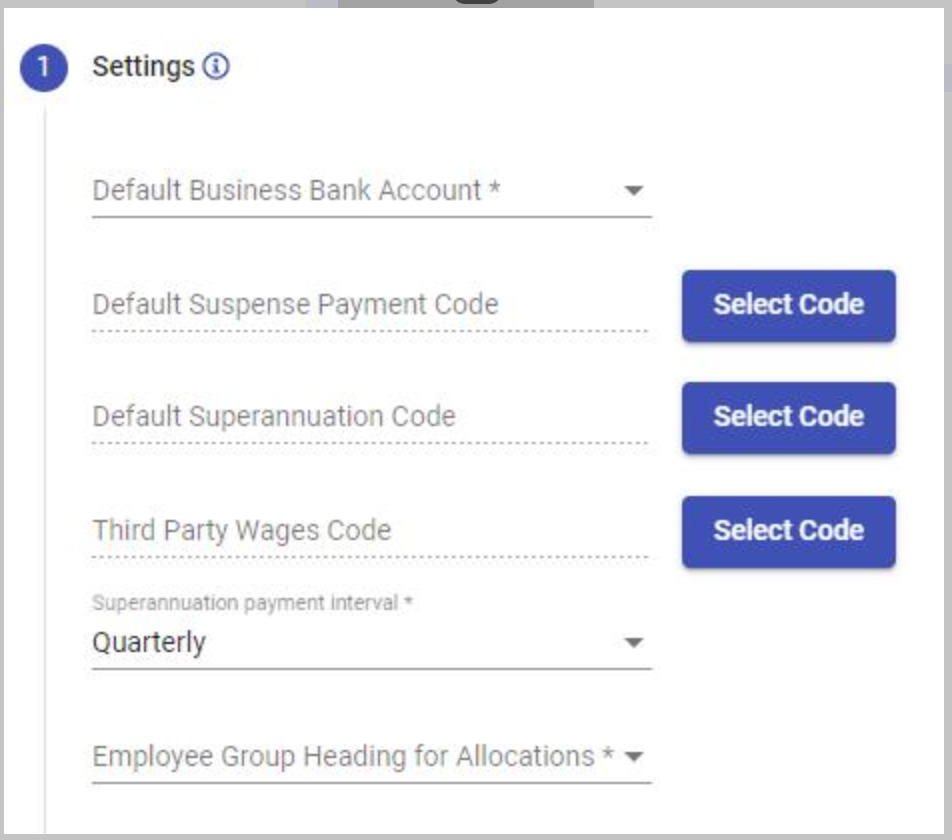 Default Business Bank Account - Select the bank account of the business that will be used for paying wages. If you do not have a bank account setup, you will need to complete this first. Setup Bank Accounts.
Default Suspense Payment Code -

When importing data, items that aren't matched in the Cashbook will default to the Suspense Payments Code.

Default Superannuation Code -

This will be the default Superannuation Code that Agrimaster uses to code your payroll transaction for all your employees. Select the Super Code from the Code list that you have been using/will be used for paying staff super.

Third-Party Wages Code - The Third-Party Wages Code needs to be completed for employees who have requested a portion of their pay to be paid to another party. If you do not have this Code, it will require adding a loans tax category. Salary deductions that reduce amounts paid to an employee and then the deduction amount is paid to a third party, will not attract GST. In this example, a Code can be setup as Third Party Payments and is given a Loans, Tax GST category. This is a compulsory field that will require a Code

as you cannot complete the integration without it. Suggested names are Third-Party Payment, etc.

Superannuation Payment Interval -

Select the frequency of super payment, whether it is monthly or quarterly.

Employee Group Heading - This keeps your list of employees in an orderly list. By selecting an Allocation group heading will enable you to find your employees in one place, to run Stacked Report. If you do not have a group heading for your employees already, you will need to create one

as you cannot complete the integration without a default. Suggested names are KeyPay Payroll or Employees or People. p
Next Step