There are 2 ways of setting up child support payment in Wagemaster:
1. Setting up child support payment as a bank account
2. Deductions
Setting up as a bank account:
Go to Employee details on your Wagemaster Program by Clicking on Employee (Or Employee > Edit Employee)

In Employee details, select the employee from drop-down box, you are setting up the payment for:
Click on payments on your left-hand side
Click on Banking



Add another bank account for Child Support and add all the banking details (Banking and payment reference details will be provided from the relevant government agency) and the amount to be deducted from pay each time. If your amounts vary each time, then you can leave it blank (you'll need to manually enter the amount every time before processing pay in the wizard below)


Leave the other bank account as a default account

After processing the pay, it should split the payments into 2 bank accounts on the payslip. See below for an example:
When importing payments from Wagemaster to Agrimaster, you will see two transactions being imported as below:


Two transactions will be created in Agrimaster with the payments directed to 2 different bank accounts.


When imported into EFT's, you should see the wizard as below:

Setting up as a deduction:
1. Child support deductions are setup in Wagemaster as allowance deductions, untaxed and not included in super calculation. The image is an example. Depending on the amount to be deducted, the allowance can be setup with a predetermined amount each pay, as a percentage, or left as zero if the amount needs to be calculated each time.
Click on setup
Click on allowances> click on add
You will see a welcome wizard, click next
Select Standard Allowance and click next
Add the details as per the image below and click next until finish


2. For attaching it to employee record:
Click on Employee (Or Employee > Edit Employee)
Select employee's name from the drop-down list
On the left-hand side, click on payments > Click on Allowance > Click Add > Select "Child Support" from the description drop-down list.
The Child Support deduction can be added to the employee and an Amount can be left blank if it varies every time and it can be used for an employee before processing pay each pay run by selecting the Override Default Amount box and then entering any value in Amount.
3. After processing the payslip, it will show under deductions as per the image below:


4. When importing payments from Wagemaster to Agrimaster, you will see a single transaction which is only importing the amount the employee is being paid after tax and child support deduction as below: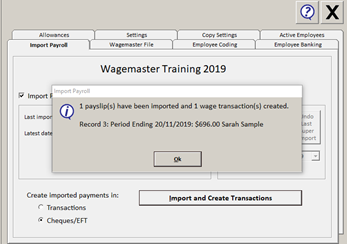 5. Your next step will be to create a new transaction for Child Support payment to a third-party bank account before payment through eft's or bank transfer.


If you need to create a code for Child support,
Click here for steps on how to add codes: Setup-Codes
Click here for steps on how to add a bank account: Set up a Bank account
Click here for steps on how to do an eft payment: Create-EFT-Batch-Payments
NOTE: The Third-Party payment field needs to be completed for Employees making 3rd party payments to another party directly from their pay as a deduction. If you do not have this code, it will require adding.


1. Start at the HOME PAGE

2. Click on SETUP & TOOLS

3. Click on IMPORT EXPORT DATA

4. Click on IMPORT FROM WAGEMASTER

5. Ensure you complete all fields as shown in the Wagemaster File screen shown below.

You will also need to tick the 3rd party box within Employee banking Tab under Import Settings