This article will explain the different types of Cashbook & Management Reports that are available in Agrimaster.
Reports
Start at the Home Page.


Click Cashbook.


Click Report.


Cashbook & Management Reports
Monthly Report
This report lists all transactions entered in the Cashbook and reconciled for the current month. It provides an excellent analogue copy for future reference if data is changed or file backups have not been maintained and data is lost.
Each month, we recommend saving a digital copy of this report.


Budget Comparison Report
This report allows you to compare your forecasted budget to the actual cashbook data for the current and past months. With this report, you will be able to analyse whether if your current cashflow is above or below where you expected to be at this in time.
Now you will be able to see business risks or potential opportunities before they arise and address them accordingly. This report should be printed when closing the month and to compliment the monthly report.


Tax Reports
Listed here are all the required reports to produce the Business Activity Statement.

Cashbook Summary
This report shows the current state or snapshot for the business based on all transactions entered into the cashbook for all accounts (including cleared and outstanding transaction, EFT's, cheques, RCTI's and invoices).


Stacked Report
The Stacked Report generator is one of the most powerful, custom-designed management reports in Agrimaster. It provides day to day value when searching historical business data but is particularly useful when building budgets or updating monthly budget figures.

For business analysis and performance reporting, i.e. what things cost, where are their costs coming from, the Stacked Report is an incredibly powerful, custom-designed report based on the data you select.
This report allows you to group data by Bank, Code, Enterprises, Allocations, Quantities, Descriptions, Month, Quarters, to list a few. You can create custom reports for an Enterprise, e. Cattle. Or subtotal the money spent on vehicles, buildings and equipment and allocated the costs to run that income centre.
The Stacked Report only delivers results only with considered and consistently entered, clean cashbook data. Prior to entering cashbook data, you must have the end game in mind, remember rubbish in produces rubbish out.
Enterprise Report
Generate reports using Enterprise codes. Example Enterprises are cattle, sheep and cropping.
Transfers
This report displays cash transfers made between bank accounts for any period, such as payments from a farm cheque account to a farm loan account. This report can be particularly handy when trying to trace large capital movement amounts between accounts in the cashbook. This can clear confusing if these amounts cannot be found in a transaction.

Quick Stock Reconciliation
Calculates stock trading profits. For each stock type, use this report to calculate a stock reconciliation for your accountant. The opening numbers and total value must be sourced from the previous year's final statements.
Cash Trial Balance
This is the report that your Accountant will require. It will produce a Totals report and well as more detailed reports. A list of outstanding transactions at the beginning and end of the period can also be printed.

Profit Loss
This report provides a summary of all revenue and expenditure incurred during a fiscal period (month, quarter or year). Your Accountant will refer to this report frequently, particularly for pre-tax planning and EOFY processing.

Balance Sheet
This report lists the Farm Business's assets, liabilities, equity and changes in value.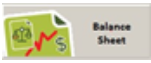 Creditor-Debtor Summary
This report lists outstanding debtors and creditors at the beginning or end of any financial period selected. i.e. Money due from buyers, money yet to be paid to suppliers or the tax office. It is good business practise to review this report monthly and follow up any monies owed or due. This will keep your file in good shape, less clean-up work required at the EOFY.

Cashflow Forecast
This report requires either a quick or full a budget to produce a cashflow forecast. The Cashflow Forecast Report is used to measure how accurate your budget is in comparison to your actual expenditure and income. From here you will be able to review:
Were your financial expectations extremely different from your actual activity?
What types of contingencies can you plan for in future years?

Find Edit
This search feature allows you to look up new or cleared transactions entered in the cashbook. Here, you can look up a transaction to find the money spent or money received that may not match your bank statement during a reconciliation.
Or, find transactions to review, how much a customer paid and what details are on the customers' invoices. You are able to print Find and Edit reports.