These instructions are for Wage Easy and Wagemaster Payroll users.
When to perform the update
You should only perform the PAYG Tax Tables update:
After you have processed the final wages for the current financial year; AND

Before you process your first wages for the next financial year; or

When you receive tax table update information directly from us
If you are unsure of whether or not it is time for you to update, please contact Customer Support: Log a Support Ticket
For full instructions on how to update Wagemaster, click here.
Download and Install the 2020 - 2021 PAYG Tax Tables
Prior to installing the tax tables, you will need to ensure your Wagemaster/Wage Easy version is up-to-date by downloading and installing the latest version (June 2020) sent to you via email. Full instructions on how to update are available here.
Download the tax tables
To download the tax tables:
Right-click on the 2020-2021 PAYG tax tables link

attached at the bottom of this article

Select Save link as...
The Save as window appears
Save the file on to your desktop (if you choose to save it elsewhere, make sure you remember the exact location)
Update the 2020 - 2021 PAYG Tax Tables
To update the tax tables in Wage Easy:
In the Wage Easy application, click on Setup and select Associations
The Associations window will be displayed. Double-click on Tax Tables
The Edit Association Details – Tax Tables screen appears.
Select the Internet tab, then tick the Tax Tables & Rebates box. Ensure that the other options are not selected. If they are, click into those boxes to deselect. Click on the Update Now button
The Update Association Data Wizard will be displayed. Click on Next
At the Update Data Source window, select Load from disk file. Click on the ellipsis (the 3 little dots) to locate the saved tax tables file
At the Open window, click on Desktop. (If you have saved the file elsewhere, click on the dropdown arrow in the Look in: field to find the location)
Using the scroll bar on the side, scroll down till you see the saved tax file. Select the file named Tax Tables 2020-21 Updated.pdl
Click Open
The Update Data Source window appears again with the file path (location where the file is saved) added to the Load from disk file field. Click Next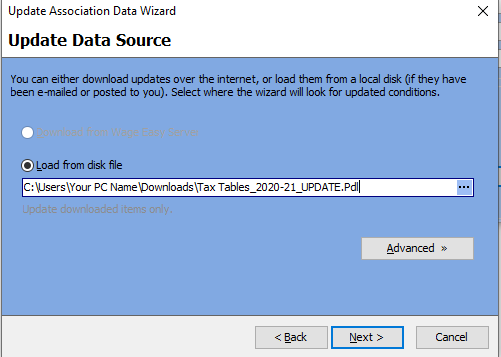 The Finish Update Data Wizard window appears. Click Finish
You will end the update process with the Finish Update Data Wizard window. Click Close to end.
Change your PPE date to the first PPE in the 2020/2021 year by clicking on PPE: from the menu and selecting the first PPE date on the calendar (highlighted yellow in the example below)
Verify Update of Tax Tables
To check if your tax tables has been updated successfully:
Click on Setup > Tax > Tables
At the Tax Tables window, check for 2020-21 (highlighted in the picture below) at the end of each tax table entry
Please note: The tax table in this article is applicable from 1st July 2020 to 12th October 2020 ONLY. For the tax table applicable from 13th October 2020 to current, please check here