Before doing the ATO Payment Summary it's important to check your configuration settings:
Ordinary Time Earnings (OTE) calculated for employer Superannuation Guarantee Contributions

(SGC).

Reportable Employer Superannuation Contributions (RESC) on employee salary sacrifice and qualifying additional employer superannuation

contributions.
Ordinary Time Earnings
When you activate STP Reporting in the new year, Wagemaster supplies the ATO information on your OTE and also on your superannuation guarantee obligations.
Thus now, before your end of year, it's a good idea to check each of your Awards' Superannuation Guarantee settings to ensure that the correct OTE pay components have been included in the superannuation calculation parameters to date.
Head to Setup > Awards then within each Award navigate to Payments > Superannuation to check that the correct Payment Conditions have been selected.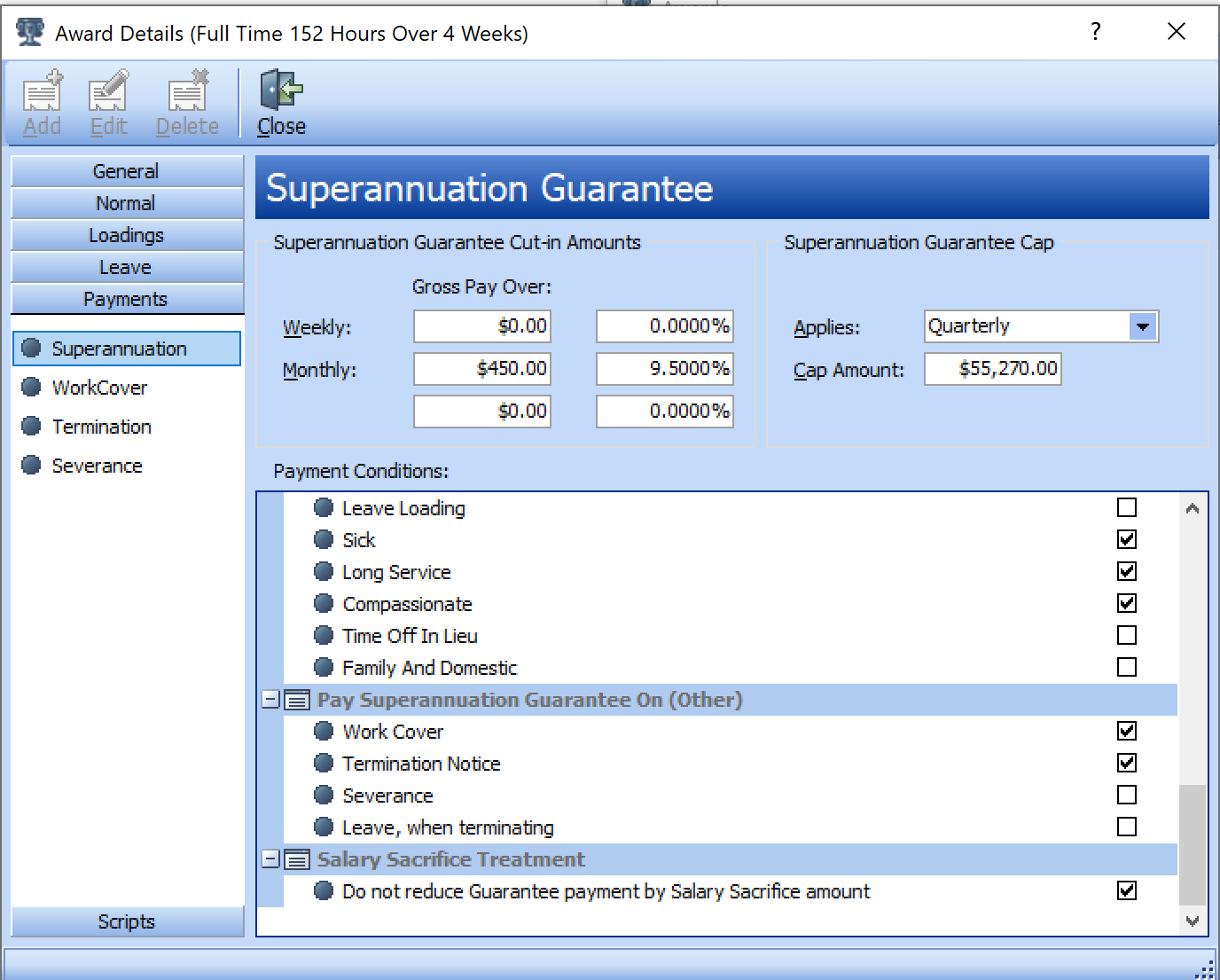 If you discover some Payment Conditions are incorrectly configured, this has implications for your superannuation guarantee payments for the year to date implying an overpayment or under payment of superannuation.
Reportable Employer Superannuation Contributions (RESC)
The ATO require RESC to be displayed on employee ATO Payment Summaries.
With Single Touch Payroll, reportable super configuration still applies. The STP Reporting step offers the RESC values to the ATO.
RESC:
Employee superannuation deductions before

tax.

Qualifying Additional Employer

Contributions.
For information regarding the rules for RESC, please consult the ATO website.
To identify those Employees who may have Salary Sacrificed to Super or had Additional Employer Contributions that are reportable as RESC run Reports > User defined > Super by Department (if applicable) with Gross Total Report.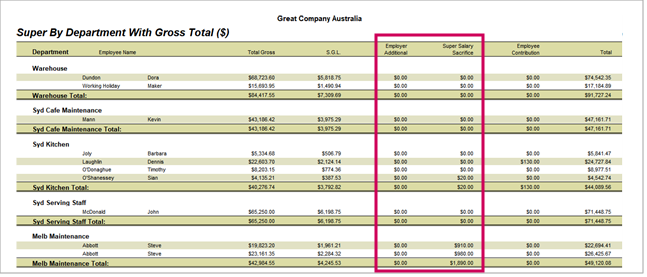 After these Employees have been identified visit their employee records using Employee File > Payments > Superannuation then select the Salary Sacrifice or qualifying Employer Additional Contribution line and Edit. Ensure the box "Include on ATO Payment Summary as RESC" is ticked.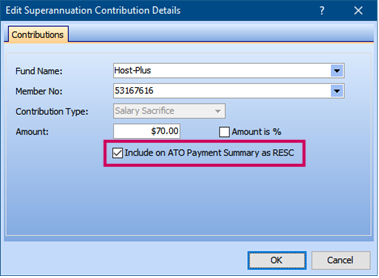 NOTE: To make sure previously processed payments are offered to the ATO as RESC, you may need to run a User Defined query called "Fix RESC flag 2020" that retrospectively applies the setting back through the year.
HR>User Defined Query>Fix Super>RESC Flag 2019
Check if RESC will be shown on Individual ATO Payment Summaries by running the ATO Payment Summary Report:
Reports > ATO Payment Summaries > ATO Payment Summary Report

The "Fix RESC flag 2020" query is available in a zip file containing both Reports and
Queries useful at end of year. Ask Pegg "Where do I get the end of year user
defined queries and reports?"
Check if RESC has been configured for STP Reporting by drilling down into a previously reported
STP Pay Event. You may need to right mouse click and Customise then drag and drop the RESC
field into the grid to see the value displayed like this.
Alternatively, run the ATO Payment Summary Report Reports > ATO Payment Summaries > ATO
Payment Summary Report.