In Wage Easy, an RDO refers to the normal days an employee does not work. For most employees, this would be Saturday and Sunday.
This is only important to set up if something different happens when the employee does work on these days. For example, if your staff don't usually work on weekends and work one Saturday, do they get a day off in lieu or another benefit? If nothing different happens then you can ignore this section.  
On Rostered Day Off screen, set up the payment conditions for employee work on their normal day off.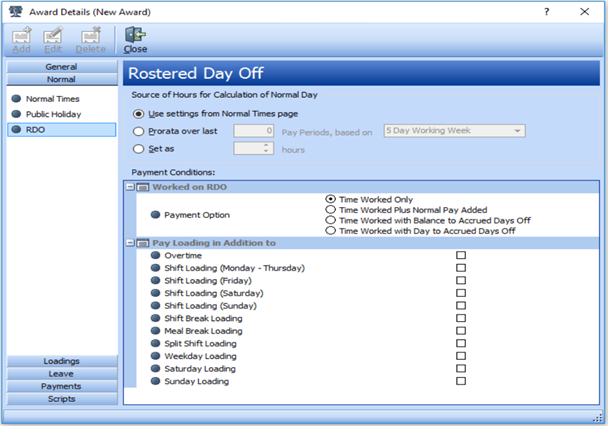 Source of Hours for Calculation of Normal Day: Select

Use settings from normal times page; or
Set as: If this option is selected, enter the desired number of hours

Payment Conditions: Select one of the following

Time Worked Only: If the employee is only paid for the time they worked
Time Worked Plus Normal Pay Added: If the employee is paid for the time they worked plus a normal day
Time Worked with Balance to Accrued Days Off: If the employee is paid for the time and the remaining time for the day is added to the ADO leave balance
Time Worked with Day to Accrued Days Off: If the employee is paid for the time they worked and a whole day is added to the ADO leave balance