This article will outline the procedure for entering Employee Leave Balance entitlements into Wagemaster/ WageEasy. 
As you work through the year, employees accrue leave which means employees are entitled to use this accrued leave to be taken as Annual Leave, Sick Leave/Personal, or Long Service Leave. You only need to set up leave for Full-Time and Part-Time employees as per the Employer/Employee Agreement. Casuals do not accrue leave therefore you do not need to set up leave accruals.
Categorise Employee Leave Type
Review the employees'

Hours worked per week
Annual Leave per year
Sick Leave/Personal Leave per year
Long Service Leave as per Agreement

Group the employees with same entitlements as listed above
You will now have your employees grouped into different awards/working conditions. E.g. Full-Time on 38 hours/week, Full-Time on 40 hours/week, Casual), which now need to be set up in Wagemaster/WageEasy
Set up Employee Leave Accrual
In this section, you will be setting up Leave Accrual for the groups identified above. The setup instructions below will be using the Full-Time on 38 hour/week group identified above as an example. You will need to set up Leave Accrual for each group identified separately. The steps will be the same.
Navigate to Setup > Awards
Double click to select and open the Agrimaster 38 Full Time award on the list 
Click the Leave tab on the left, then Annual to set your Annual Leave accrual

Days Employed: Any days greater than 0. This means Annual Leave is calculated from Day 1 of work 
Calculation Method: Yearly is the period that the annual leave accruals are calculated over
Accrual Rate: Number of hours of annual leave ie 4 weeks annual leave of a 38 hours working week
The above means the accrual figure is calculated by taking 365 (number of days in a year excluding the leap years), dividing by 152.0000 hours, giving a decimal figure of 0.4164.  The system calculates the accrual leave in the employees' record. For example, the leave accrual for the day 1 is 0.4164, day 2 is (0.416438 * 2) is 0.8328 ....... Day 365 is 152.0000
Setting the Accrual Conditions
1. Choose the option of Each year, on the anniversary of the employee's commencement so that every year a record is created in the Employees' records with the accumulated accrued leave.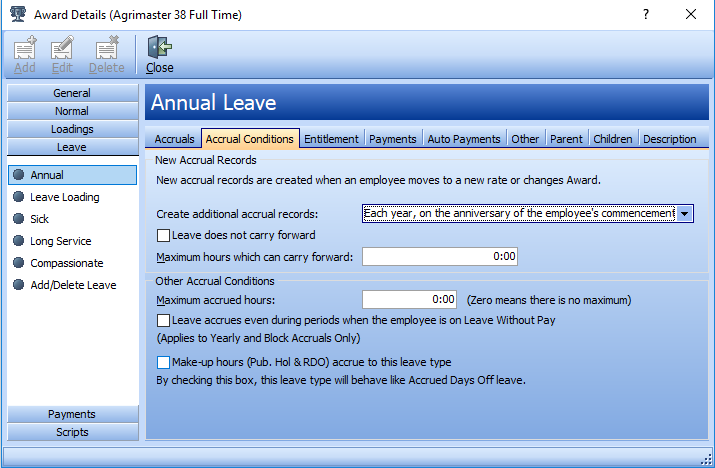 2. Here is an example on how the annual leave accrued leave is shown every year. 

3. Entitlement - here is where you enter the qualifying time the employee is required to service before they can take annual leave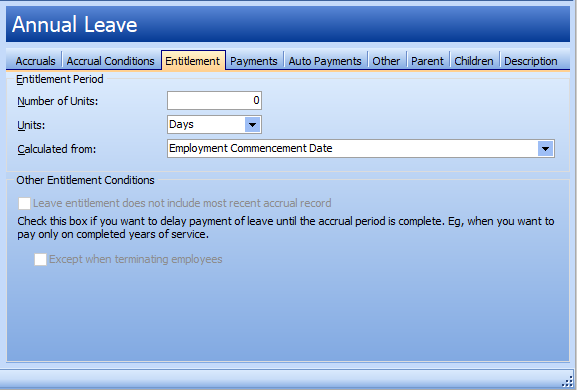 4. Payments Options - tick in the Payments can be edited at Wages Processing.  This will allow you to make any adjustments to the annual leave payment during the payslip process.  You may want to select other options depending on your situation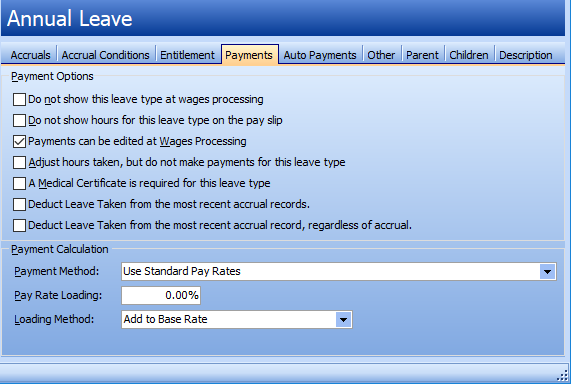 Review Employees Leave Accrual
To review the Employee Leave Accrual:
Navigate to Setup > Awards
Select the employee's Award Leave tab and make note of the Award selected (Award Details), the Leave Types within, and the Calculation Method for each type

The most common types of leave are: Annual leave, Sick leave, Long Service Leave.

NOTE: Leave can be accrued in different ways in different awards. It is imperative that all Awards are reviewed.

Navigate to Reports > Staff Listing > By Awards > Print to make a note of which Award each employee is applicable to 
Employees with Yearly and Hourly leave accruals in the Award
Within the Employee file, go to Leave > Annual
Nominate an entitlement date in your previous payroll system. It is most likely that this is the pay period end date if your previous payroll system updates leave during the processing of wages. This is the date that the Employees will have accrued leave to up to in your old system. Please create the required Leave Entitlement Report from your previous system with the referenced date.
If your previous payroll system accrues in decimals, please ensure your entitlement values are converted into hours and minutes. For example, seven and a half hours in decimals (7.5) equates to 7.3 in Wagemaster/WageEasy.
When the Employee is entered into Wagemaster/WageEasy, a few or one date line for leave accruals will appear. These dates or date will reflect the Employees Start and/or Award date.

To update the leave balances to the leave entitlement from the old payroll system, new lines will need to be created.

Select Add to create a line of leave, with the date chosen that references the Employee beginning to accrue in Wagemaster/WageEasy 
Then Add again and create a second line for leave, with the references when the leave balance was taken from your previous payroll system, e.g. 29/03/2016. In the Adjustment field enter the entitlement value from your previous payroll system.
In the comments field, enter a comment such as Leave balance brought forward from previous payroll system. Entering in a comment is very important as it allows you to keep records of your leave adjustments.
Delete any other lines of leave, other than the two lines you have just added. This is the only time we would recommend deleting lines of leave.
You have now created an easy reconciliation for leave as the two lines with the two dates represent the balance from the old system (the cut-off date) and Wagemaster/WageEasy moving forward by taking the accrual.
Repeat the process for each Employee for all their Leave types that are either Yearly or Hourly.leave accrual 
Next Steps: