This report should be run to ensure that the wages recorded and paid in Wage Easy Payroll match the wages recorded & paid in your Agrimaster cashbook software.
To cross check that the wages tax withheld for each period reconciles with Agrimaster, you will need to run a payment summary report in Wagemaster (driven by Wage Easy Payroll software) as well as Agrimaster.
We recommend this process be done at the end of each wages tax withheld period as well as at the end of the financial year.
Generate the Payment Summary Report from Wagemaster
Follow the instructions below to run the Payment Summary Report from Wagemaster:
Open Wage Easy Payroll
From the Main Page of Wage Easy Payroll, select the Reports option
Select Payment Summary, then Year to Date 
Enter the date range you for the report. Ensure you select the relevant dates as required.

From field: Always choose the first pay period ending (PPE)
To field: Enter the last pay period ending (PPE) date
Or, you can use the Year To Date (Financial) option if you are doing the whole financial year
The Last Quarter can also be useful if you are doing a BAS period Check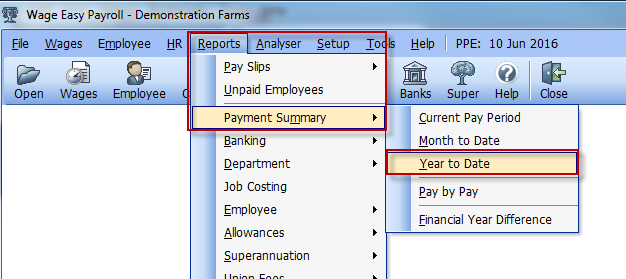 Generate the Wages Tax Deductions Report from Agrimaster
To run the Wages Tax Deductions Report from Agrimaster, follow instructions in this article.
Complete the Wages Tax Reconciliation Process
Compare both reports and check that they reconcile. If adjustments are required, do so and re‐run reports
Complete the PAYGW online through the ATO Business Portal (see Quarterly GST Reporting Preparation) then print out a copy of the PAYGW for our records
Once the current cashbook month is reconciled and closed off, close off the current wages tax period and create the automatic payment to the ATO
For instructions on closing the wages tax period, click here.