The Wages Tax Deductions Report is used to get the information you require to:
Complete a Payment Summary for your employees from Agrimaster, or
Check that the figures in Agrimaster match your payroll software, or
Check that all the wages transactions for the period are recorded correctly.
To Find The Gross Totals For Wages And Tax Deducted For Each Employee
From the Home Page, click Cashbook Reports.

Click Tax Reports.

Click Report Any Period.

Make the following selection as pictured below:

Enter the First month and Last month of the financial year you wish to report (For example July 2015 - June 2016).
Select the Wages Tax Deductions (Details) report option.
Under List Order, select Name to report by this field.
Click on the green tick to produce the report.
This report will display all the Wages Gross and Wages Tax Deducted Totals for each employee.
Reconcile and compare the Wage Tax Deduction Report in Agrimaster with the Payment Summary Report from your payroll software (choose the appropriate reporting period: Month to Date/ Quarter to Date/ Year to Date or selected date range).
Below is an example of the Wages Tax Deductions report for a quarter.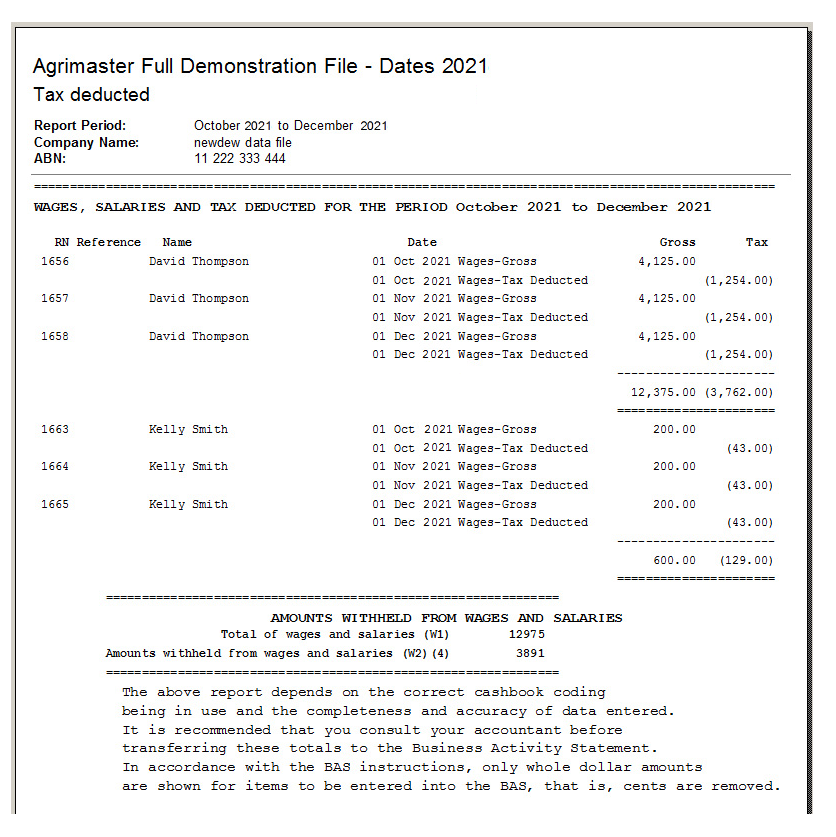 Please Note:
The totals shown in the picture above is what will be reported in W1 and W2 for your BAS in Agrimaster. This will need to reconcile what has been reported through the STP portal.