Set up Agrimaster's tax instalment tracking if the ATO requires your business to pay tax in instalments (for example quarter BAS or monthly BAS). Skip this step if your business pays taxes once at the end of the tax year. 
Add Suspense Codes (temporary accounts to hold imported data before assigned to an Income or Expense type)
Optional, enter the Instalment Tax interval
(for quarterly or monthly payments)
1.   

  Click the Home Page button
1.   

Click on Setup & Tools
2.   

  Click on Cashbook Setup
3.   

 Click on Tax
4.   

Click on Setup Instalment Tax 
5.    Click in the Activate Instalment Tax in Budgets checkbox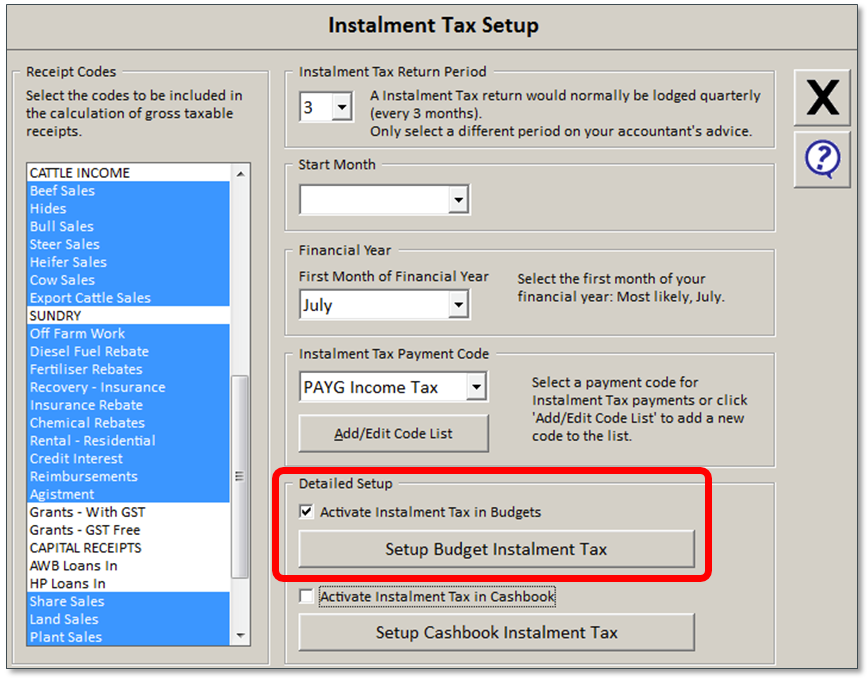 6.    Click on Setup Budget Instalment Tax 
7.    In the Budget PAYG Installable Tax Setup window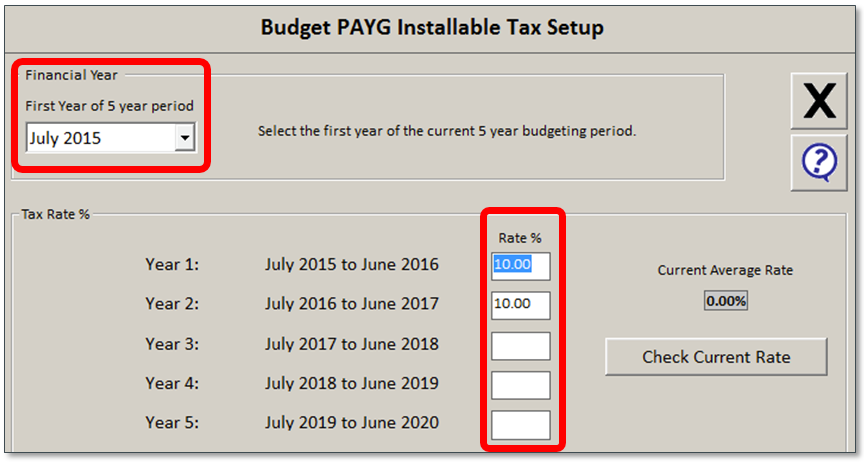 First Year of 4 year period

 

Choose the year of the first budget in the series

Year 1, Year 2, Year 3, Year 4, Year 5

 

Type the tax rate for each year 

For example, if GST is raised in 2018 by 1% type 11.00
The numbers are saved as soon as you click or tab into the next box 
8.   

 Click on the X to cancel once completed
9.    Go to Instalment Tax Return Period and choose the months between tax instalments

For example, select 3 (months) for a quarterly tax instalment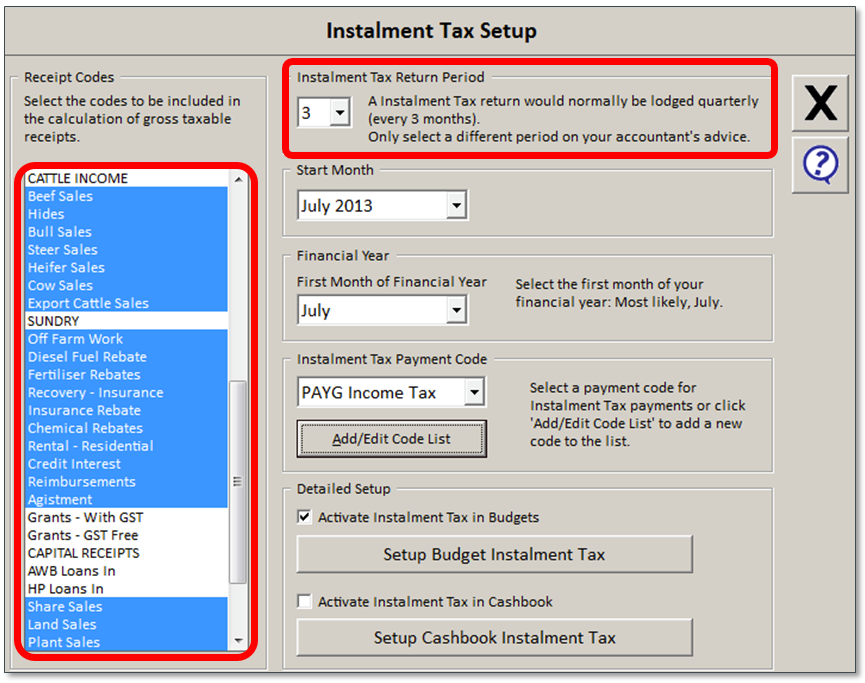 If needed, click on Income types added to the ATO's instalment worksheet. Click again to deselect items that are not included in the Tax instalment calculations. 
Changes are saved automatically as you click on another item in the window 
10. 
 Click on the X to cancel. You will be returned to Agrimaster
Next Steps to Build a Budget 
The Budget settings are now activated. The next groups of activities are: 
1.    Create the Enterprise Worksheet Groups specific to your business (such as sheep, cropping)
2.    Optionally, use the Grain Income Calculator tool to work with grain loans and harvest income
3.    Add data to the Fixed Costs and Assets & Liabilities Worksheets
4.    Assemble a new Full Budget
5.    Run reports to review the value of the business. Uncover opportunities to make money and to save money. Compare the expected profit and expenses with actual financial activity.