Use Agrimaster Cashbook reports to review and manage your business. The reports can be used to summarise your business activity at any time during the month or year.
Click on Home
Click on Cashbook
Click on Report and choose a report that answers a management question
For example, you might click on one of these reports

| | | |
| --- | --- | --- |
| Monthly Report | | Lists all transactions entered into the Cashbook for the month. Includes reconciliation details. Recommended: Print the Monthly Report prior to closing each month. |
| Cash Book Summary | | Shows the current state of all entries in the Cashbook including unprinted cheques and invoices. |
| Transfers Report | | Displays cash transfers made between bank accounts for any period, such as payments from a Farm Cheque account to a Farm Loan account. |

Click on Print
Click on to close and click on to close (again) to return to the report window
Tax Reports
| | | |
| --- | --- | --- |
| Tax Reports | | Tax Reports are run to get data for the Business Activity Statement for the tax period. If a report in the Tax Reports window is grey, no data has been entered into the Cashbook to fit that report or the Tax Setup needs additional input. |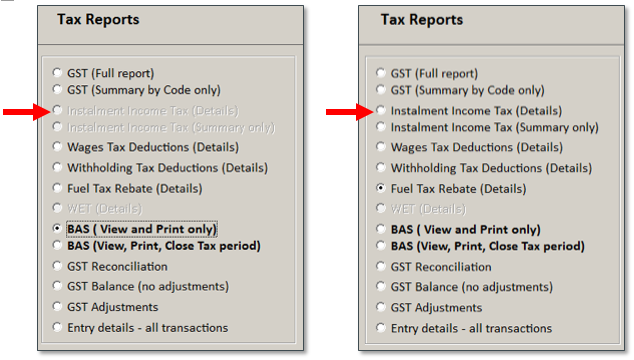 | | | |
| --- | --- | --- |
| GST (Full report) | | Shows lines of detail group tax by categories. For example, the report lists all the tax collected for each invoice you issued to customers. You will also see lists of tax free items (such as interest) and wage tax withheld. |
| Installment Income Tax (Details) | | Used when the ATO requires a business to pay PAYG Income Tax Installments. Refer to your accountant for additional advice. |
| Wages Tax Deductions (Details) | | Used by businesses that pay employees and withhold tax from the salary or wage. |
| Withholding Tax Deductions (Details) | | Used when the supplier with no ABN has been paid and taxes were withheld on behalf of the ATO. The report totals the amount paid to the supplier and to be paid to the ATO. |
| Fuel Tax Rebate (Details) | | Lists fuel by the number of litres of diesel and petrol. Estimates the fuel tax credit based on the percentages of business and private use in the Setup > Tax section. The litres for each purchase are required to claim the tax rebate. |
Budgets and Forecasting Reports
| | | |
| --- | --- | --- |
| Budget Comparison Reports | | Displays the difference between actual cash flows and budgeted cash flows. Recommended, print this as a compliment the Monthly Report as part of a month closing process. |
| Cashflow Forecast | | This report requires either a quick or full a budget to produce a cashflow forecast. |
Farm Performance Reports
| | | |
| --- | --- | --- |
| Stacked Report Generator | | Design custom reports with custom selected data. Run these reports to group data by Enterprises and Allocations. For example, create custom reports of an Enterprise income center for Cattle subtotaled by the money of spent on vehicles, buildings and equipment Allocated to run that income center. |
| Enterprise Report | | Generate sales and cost reports using Enterprise codes. Example Enterprises - Cattle, Sheep and Cropping. |
Accounting Reports
These reports may require the assistance of your accountant to select the options that give an appropriate answer to your financial questions.
| | | |
| --- | --- | --- |
| Accounting Reports | ` | Access a group of reports for your accountant or insurance company to assess the value of your company. Reports include Profit Loss, Balance Sheet, Cash Trial Balance and Creditor Debtor Summary |
| Profit Loss | | Summarise the revenues, costs and expenses incurred during the fiscal quarter or fiscal year. |
| Balance Sheet | | Print a financial statement at any time of the business's assets, liability and equity (shareholders' equity). View a summary of what the business owns and owes. For example, accountants may use a balance sheet assess the sale price of a business. |
| Cash Trial Balance | | Run to provide details and totals to your accountant. Optionally, the Trial Balance can include outstanding transactions at the beginning and end of the period. |
| Creditor Debtor Summary | | Lists debtors and creditors by account. Includes a breakdown by Net, GST and Gross. Shows loan balances, money due from buyers, money yet to be paid to suppliers or the tax office. |